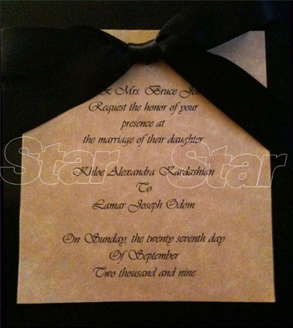 starmagazine.com
That ugly invitation to Khloé Kardashian and Lamar Odom's wedding that Us Weekly and Star mag have isn't the real deal.
"The invite that is posted by Star is not the real invitation," Khloé's rep tells E! News. "Not sure where it came from but it's a fake."
Duh! First of all, that invite is hideous, and we like to think the Kardashians (who have two successful stores) have a good eye for style and design.
Secondly, the 'e' in Khloé's name on the alleged invite doesn't have an accent. This was a last-minute wedding, but we're sure the bride-to-be wouldn't allow the printers to misspell her name.
We have confirmed that Lamar's bachelor party is a go for tonight...