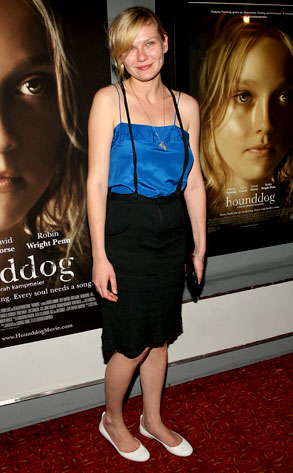 Stephen Lovekin/Getty Images
Kirsten Dunst is apparently better at banter onscreen than off.
So it was today ast the Spider-Man star took the stand for 30 minutes of rambling, giggling testimony in the burglary trial of a mechanic believed to be the mastermind of a 2007 heist of $15,000-plus worth of goodies from Dunst's hotel room
James Jimenez, 35, is accused of sneaking into actress' unlocked penthouse suite at the SoHo Grand Hotel while she was in town filming the 2008 comedy How To Lose Friends and Alienate People with Simon Pegg and Megan Fox.
Prosecutors allege Jiminez and Jarrod Beinerman, 34, made off with a $13,000 Balenciaga bag, a $2,500 Marc Jacobs handbag, her wallet, credit cards, iPod, cash, cell phone, two cameras, and yes, even lip balm.
The 27-year-old Dunst told jurors she had been in the suite with Pegg, some crew members and movie mogul Harvey Weinstein watching YouTube clips and eating takeout from Nobu. The two actors then left to shoot their final scenes when the bandits struck...