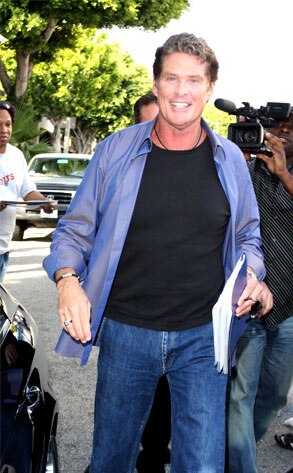 Steve Levy/INFphoto.com
David Hasselhoff did not—repeat—did not fall off the wagon.
That's the word from Team Hoff today, hours after the ex-Baywatcher was rushed by ambulance to a hospital.
A rep for Hasselhoff tells E! News that the 57-year-old actor was briefly hospitalized Sunday afternoon after a bout of dizziness due to the combination of prescription medication. Specifically, Hasselhoff "felt his equilibrium was off" after taking the anti-nauseau drug Antivert and Antabuse, a medication for recovering alcoholics.
The America's Got Talent arbiter could not reach his personal doctor, the rep said, so paramedics were called to his suburban Los Angeles home. No word on his current condition.
This isn't the first time the former Knight Rider star has had to outrun allegations of alcohol abuse.