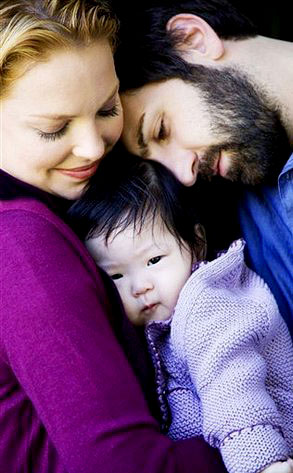 CHEYENNE ELLIS, PMK-HBH
Last week Katherine Heigl stopped by Ellen DeGeneres' show to announce she and husband Josh Kelley were adopting a little Korean girl.
And now she would like to share pictures of 10-month-old Nancy Leigh or, as Heigl notes on her Jason Heigl Foundation website, "She will go by the nickname Naleigh."
The three make such an adorable family, it's definitely going to make it harder to get angry at Katherine for all her entitled complaining.
So congrats! May the future be filled with many more touching family photos where everyone wears complementary-colored (but not matchy-matchy!) sweaters.