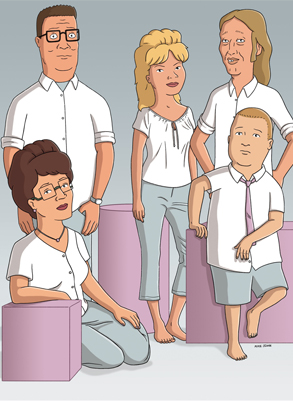 FOX
After 13 seasons and 253 episodes, Fox's King of the Hill is serving up their Southern-style send-off.
Just over twelve years ago, those guys who brought you MTV's Beavis and Butthead (Mike Judge & Greg Daniels) ventured into the tiny town of Arhlen, Texas and viewers have tuned in every since.
Not since the days of Seinfeld has a show about nothing seen such success. With two Emmy's under its belt, the title of second longest running animated series in history—damn those Simpsons—and more celeb guest stars than we can begin to count—Brad Pitt and Johnny Depp, to name a few—King of the Hill can bow out with its head held high.