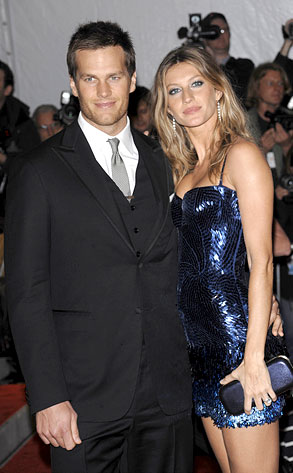 AP Photo/Evan Agostini
Tom Brady can't be stopped on the field. His DNA can't be stopped off.
The 32-year-old star quarterback of the New England Patriots has finally confirmed what everyone has suspected for months: he's knocked up supermodel wife Gisele Bundchen.
Bündchen's bumpwatch began in June, but Brady—who has a son, John Edward Thomas Moynahan, with ex-loverl Bridget Moynahan—denied the Victoria's Secret babe was preggers, saying "one kid is enough...I've got dogs. That's all I need."
Whether he needs it or not, Brady Spawn No. 2 will arrive in December, the three-time Super Bowl champ fesses up in an interview with ESPN's Chris Berman airing tonight on Sports Center. The will be the first child for the 29-year-old Bündchen.
No comment from the Brady dogs.