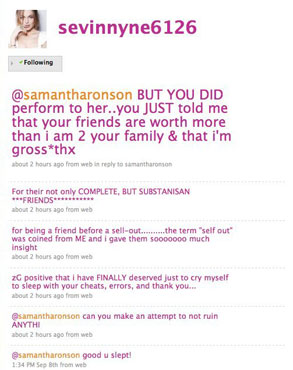 Samantha Ronson and Lindsay Lohan fighting is nothing new, we know. But seriously, LiLo needs to learn when to stop the twittering.
It never makes her look like the downtrodden victim of SamRo's abuse or whatever she's going for.
No, it makes her look crazy. Just try to make sense of any of this:
"can you make an attempt to not ruin ANYTHI...zG positive that i have FINALLY deserved just to cry myself to sleep with your cheats, errors, and thank you...for being a friend before a sell-out...the term "self out" was coined from ME and i gave them sooooooo much insight...For their not only COMPLETE, BUT SUBSTANISAN ***FRIENDS***********"