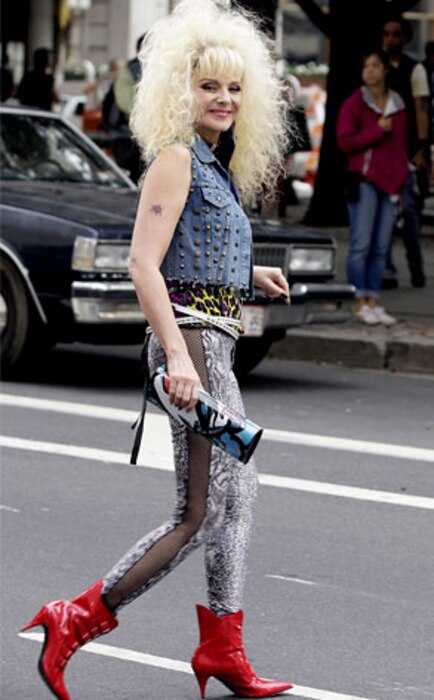 Marcel Thomas/Getty Images
According to this photo of Kim Cattrall on the set in New York, evidently there's an '80s flashback in the Sex and the City sequel—but is it a fantasy flashback? Because we certainly don't recall anyone ever dressing in these hideous duds back then.
Sarah Jessica Parker had her own retro makeover for the movie, but while SJP's outfit is sorta demure (especially for Carrie Bradshaw), they threw all the crazy on poor Kimmy C.
We totally can't imagine Kim's saucy, sex-loving Samantha Jones slumming it in a trashy getup like this—unless, of course, Samantha was a hooker in the '80s. Totally possible.
For Kim's sake, let's hope Pat Fields and the costume department give Cattrall a helluva better wardrobe in the present-day scenes than they did in the first big-screen flick. While the other girls were sleeker and more sophisticated, Samantha's duds were uncharacteristically frumpy and over-the-top. Stereotypically cougariffic and not sexy at all.
So is half the movie gonna be in the '80s, or will it just be a quickie scene? Who cares, the bigger mystery is how much CGI they're gonna need to make all four women appear 20 years younger.