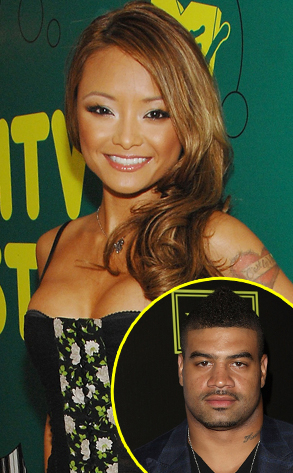 AP Photo/Evan Agostini, Jason Merritt/Getty Images
Tila Tequila is looking to intercept her man at the pass.
With NFL star Shawne Merriman publicly declaring that his altercation with the Shot at Love star occurred when he tried to stop her from driving drunk, Tequila maintains that she was attacked and can discredit Merriman's "fantastic story."
"Shawne Merriman and his advisors have decided that the best defense is a good offense, attacking Tila Tequila in the press with a lot of calculated spin to cover up his illegal and indefensible actions," the Shot at Love star's attorney, Alan Gutman, said in a statement to TMZ Tuesday night.
"Fortunately, we as a society will not tolerate a 6'4", 270 pound all-pro NFL linebacker physically assaulting a young lady who is 4'11" and 93 pounds. It is never justifiable to brutally assault, choke, strike and imprison a woman."