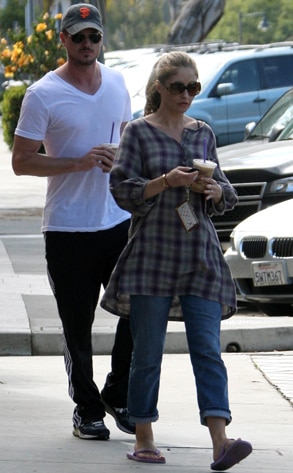 infdaily.com
Eric Dane and Rebecca Gayheart were spotted hitting the L.A. brunch scene at the King's Road Café in West Hollywood this Labor Day weekend. Mr. and Mrs. McSteamy, who recently became buzzworthy again because of their filmed three-way, obviously have a thing for trifectas.
They were seated with a hot gay-looking dude at their table, and all three babes looked incredibly hungover. Up late the night before filming a naked sequel?
Let's hope! We def love the recasting of a hot beefcake over Kari Ann Peniche, who just didn't do it for us as the first third wheel.
Then again, rumors are going around that Gayheart's knocked up, and if that's the case, let's hope she was rocking more tired eyes than hungover ones.
But doesn't somebody have to, ya know, actually have sex to get pregnant? Last we saw, Eric and Rebecca were just into getting naked and spewing cringe-worthy sour nothings to each other.