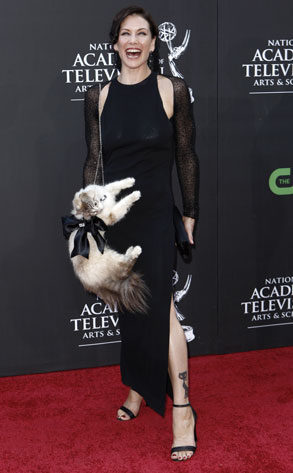 AP Photo/Matt Sayles
Soap star Stacy Haiduk decided to dazzle the Daytime Emmy Awards ceremony by showing up in a slinky, choppy, gown and accent her frock with a petrified puss.
Now, we love cats too! In fact, we doubt you'll find any other national entertainment outlet that celebrates the feline species as much as we do. You know what else we love? Cheeseburgers, can't get enough of 'em. But you don't see us dipping a burger in plastic, roping a string through it and calling it purse now do you?
Walk us through this, Stacy. Did you go to a boutique filled with stiff, dead eyed kitties hanging off a rack or did you have this roadkill-cum-fashion-accessory custom made? Whatever the case may be, the crazy cat lady look ain't for you. Or any one. Ever.