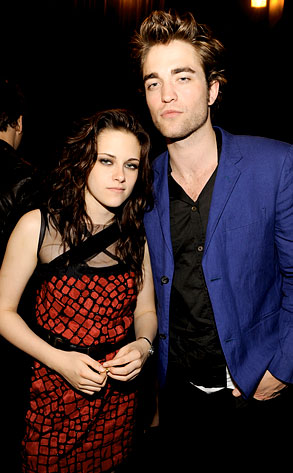 Frank Micelotta/Getty Images
Our Twitter has been exploding with Twilight fans going through Robert Pattinson withdrawal. Why the ef aren't we seeing anything kissy and up close this time around?
Like we've said, everything is very chill up north (on and off the set, for once), but don't think that has come easily. Security has very much been pumped up, not only to keep a little more suspense this time around, but also, of course, to keep the cast feeling safe.
"We had to," dishes our well-placed source, somewhat annoyed that the Fort-Knox-esque steps were taken. "It was unavoidable."
Glad to know those snitty suits are taking better care of R.Pattz and crew this time around—which is what it's all about. It's not at all about keeping us from seeing things, but just protecting the very lives of their virtual cash cows known as Rob and Kristen Stewart. Say moo if you love Robsten, too!
But that's the thing, folks. People on the set are putting all their effort into keeping Rob—mainly, but K.Stew, too—happy (not that Rob requires that much attention). As for the other castmembers? Uh, not too much of a priority...