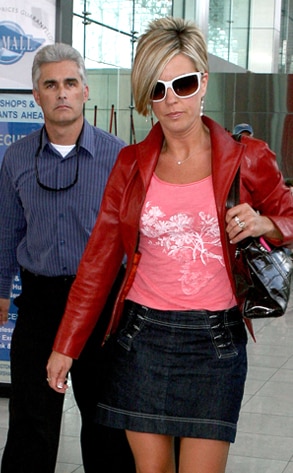 INFphoto.com
Want to know the quickest way to put those bodyguard affair rumors to bed?
Just ask Kate Gosselin. While her soon-to-be ex-hubby Jon Gosselin was off having a pool party in Vegas, the mom of eight hosted her own get together with loyal protector (and rumored beau) Steve Neild and his family.
Kate's security details arrived at her Pennsylvania home with his wife, two teenage sons and a cooler full of goodies in tow.
"The kids all went swimming," an eyewitness tells E! News. "They were splashing around in the pool and having a really good time."
The gang spent the rest of the day picking apples on Gosselin's property. But Neild, the consummate bodyguard, kept on eye on Kate plus eight's safety the entire time, patrolling the perimeter on Jon's ATV. Wonder how the patriarch will feel about that?
After over five hours of fun, the Neild family departed as Kate and Steve's wife even hugged goodbye.
So, like we said, affair? What affair?