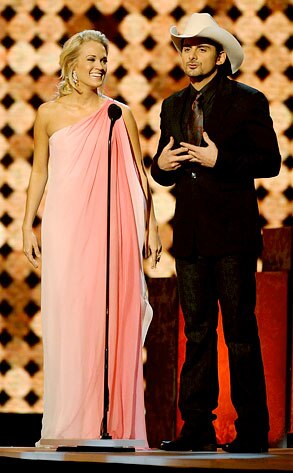 Rick Diamond/Getty Images
Already in possession of numerous keys to the castle, Brad Paisley and Carrie Underwood get to hold court again this year.
The reigning male and female Vocalists of the Year have been tapped to cohost the 43rd Annual Country Music Association Awards, which will be their second straight year helming the increasingly glamorous kudosfest.
"I thought we did a good job [last year]," Underwood told People. "I wasn't nervous about being asked back. But I was hoping they would ask us."
The Nashville superstar is a five-time winner at the CMAs, including the Horizon (top newcomer) Award she picked up in 2006.
"I figured if they wanted us back they'd ask and if not, we'd get to sit and watch somebody else go through it," added Paisley, who has 11 golden microphones at home.
The 2009 CMA Awards air live Nov. 11 on ABC.