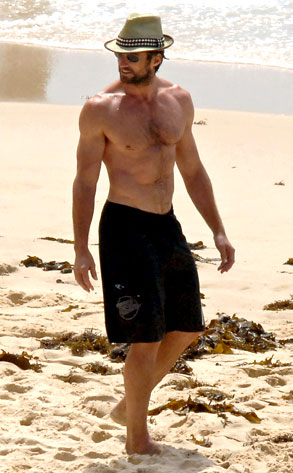 INCO/Fame Pictures
Dear Ted:
Hugh Jackman spends a lot of time telling interviewers (some of whom haven't even asked) how happily married is. What do you make of that?
—Speedinny
Dear Happy Feet:
Hugh's not lying—his marriage is working out just fine for what he wants out of it.
Dear Ted:
I love your Robsten news, but I also have some mad love for Jackson Rathbone and Ashley Greene. Ashley has admitted she crushes on Jackson three different times already. I was lucky enough to go to the Dallas Twicon, and when someone asked Jackson what attracted him to the role of Jasper, he answered "Ashley Greene." Adorable, right? But then the whole Chace Crawford thing happened, which made me sad and lose hope. I have a feeling I'm not the only one. Any scoop on their status right now?
—Inovermyhead
Dear Going Greene:
Ashley knows she's a wanted broad, and she's playing the field, which we totally support! That C2 smooch is just a fling. And don't hold out on Rathgreene being the new Robsten; their comments are way too public (and cutesy) to be taken seriously.
Dear Ted:
Have you seen that interview you guys did with Ryan Reynolds, Jesse Eisenberg and Kristen Stewart for Adventureland? Ryan said, I think, that within the next year Kristen Stewart is going to make it with Robert Pattinson...Couldn't that mean Ryan let the cat out of the bag a long time ago?
—Supergirl