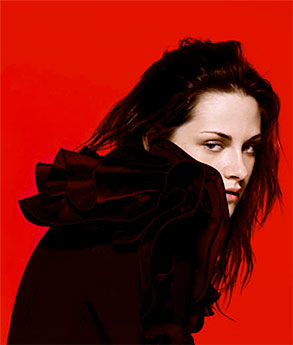 David Sherry for Dazed and Confused
So yesterday we thought Kristen Stewart was looking a little grumpy on the cover of Dazed & Confused. Turns out things just get worse inside. Somebody needs a nap or smaller collar or Rob Pattz hug or something.
Oh, never mind, it's being famous that's responsible for her "ugh" look:
"The fact is, the paparazzi and most interviewers, they want your soul," she tells the British fashion mag. "It's so scary because your persona...and I guess I now have one, because people think of me in a certain way...is all based entirely on quick snippets of crazed moments in your life. And that is what people then base their entire opinion of me on!"
Yeah, that's kind of rough. We use just one photograph and call her grumpy, but that's just the way things go. And really, there is something endearing about K.Stew's awkwardness and "over it" 'tude, so at least she's stuck with a decent persona. Sometimes she can even take a good picture: