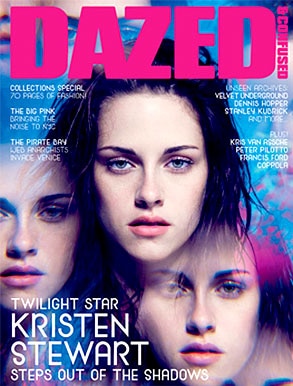 Dazed and Confused
• Kristen Stewart kaleidoscope on Dazed & Confused magazine! Could there be a more perfectly named magazine for the Twilight star?
• Tyra Banks twitter swears she'll go weave-free for her talk-show premiere: "Guess What! I'm rockin' my REAL hair on my talk show September 8th. No fake hair at all! Will be the hair coming out of my scalp! 4 all 2 C! no ponytails, no ballet bun head. hair will be out and free!" We'll just have to get our fierce weave fill over on America's Best Dance Crew.
• So this is what Steven Tyler looks like.