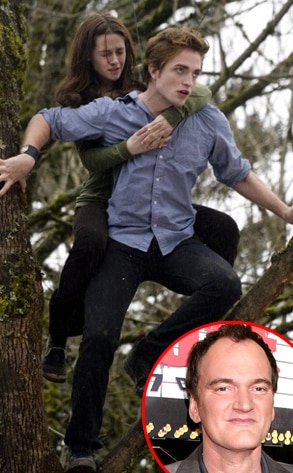 Summit Entertainment, Paul Fenton/ZumaPress.com
Quentin Tarantino knows from vampires.
Before Edward Cullen's bloodsucking got teen girls' pulses racing, Tarantino and George Clooney were putting down the undead in the cult flick Dusk Till Dawn. So what does the master filmmaker like Tarantino think of a junior varsity vampire franchise like Twilight?
"I haven't had a chance to see Twilight yet but I want to!" Tarantino told E! News today at the junket for his Nazi-scalping flick, Inglourious Basterds.
Asked how the vampire genre has changed since Dusk Till Dawn, Tarantino responded, "Vampire movies have always been about not fitting in high school. Twilight seems like that."
And what vamp flick did the noted film geek recommend for fanggirls and -boys anxiously awaiting the upcoming Twilight sequel, New Moon?