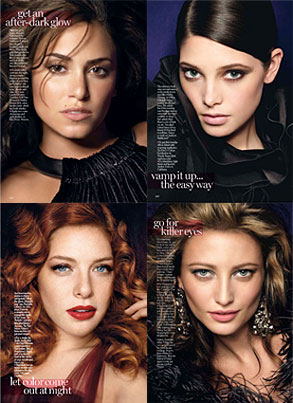 Glamour Magazine
Sure you've all seen the Twilight girls, Nikki Reed, Ashley Greene, Noot Seear and Rachelle Lefevre (clockwise from top-left, natch), looking gorg in Glamour magazine. Seriously flawless on all four accounts.
Except that we can't help but think why the hell is this Noot chick in there? She's hardly even a second-class Twi cast member! Meanwhile Rachelle is still included, and Kristen Stewart is noticeably absent.
"It was an old shoot," our Twi insiders tell us. Well no s--t. Or else the Rachelle drama would seriously be exaggerated, no?
We still don't get why K.Stew wouldn't be in there, though. Logically speaking she was too busy working on her other projects. Or maybe she just likes to spend all her free time with Robert Pattinson…like she did last night.
More about that: