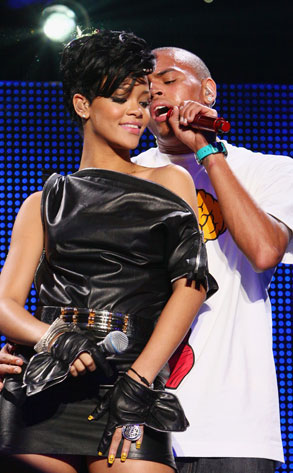 Theo Wargo/Getty Images
Does Rihanna want her face-time with Chris Brown to be a little less coincidental?
The pop star's attorney tells E! News that his client is looking to do away with the order of protection that's been in place since Brown copped to beating on Rihanna in February, which requires the "Run It" singer to stay at least 50 yards away from his ex-girlfriend.
The court allowed some leeway in case the duo were both in attendance at a music industry event, meaning Brown wouldn't be hauled off to the clink if he and Rihanna happened to rub elbows at the Grammys.
But whether she wanted this all along or was moved by Brown's videotaped mea culpa (and the promise of yet another apology on Larry King Live Wednesday night), Rihanna, who declined the court's offer of a restraining order back in March, feels that a level-one protection order will be sufficient from now on.
Which, basically, constitutes a handful of stipulations that you would want anyone to abide by.