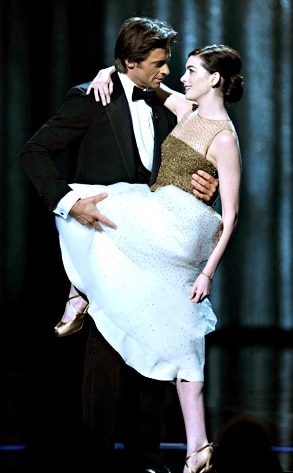 A.M.P.A.S. / Michael Yada
Wolverine's gonna sink his claws into a meaty part.
Hugh Jackman has signed on to appear in a new musical, reports Variety.
Showman will chronicle—in song!—the colorful life of legendary P.T. Barnum, the impresario whose talent for giving the people what they wanted led to many entertainment firsts, including the three-ring circus. Barnum is also said to have claimed, "There's a sucker born every minute."
The female lead is being written with an actress in mind: Anne Hathaway, Jackman's Oscar night singing partner.
While the huckster has already been the subject of the Broadway musical Barnum (which starred Harry Potter audiobook legend Jim Dale), this new film will feature contemporary songs, possibly by Mika.
Sounds like a total circus already.