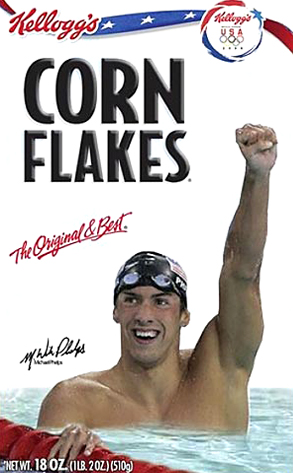 Kellogg's
Kellogg likes its flakes frosted, not baked.
A couple days after Michael Phelps admitted to recent marijuana use, the cereal maker says it has dropped the 14-time Olympic gold medalist as a spokesman.
"We originally built the relationship with Michael, as well as the other Olympic athletes, to support our association with the U.S. Olympic team," a rep for the Battle Creek, Mich.-based company said Thursday, and the swimmer's recent behavior is "not consistent with the image of Kellogg."
Their contract with Phelps is set to expire at the end of this month. At press time, the 23-year-old also has a sponsorship deal with Subway, which has declined to comment on its golden boy's slip-up.
"It's times like these where you really do get true support and I've really been able to find out who my friends and family are," Phelps told E! News before the Kellogg announcement. "That was some bad judgment, bad mistakes, and I'm all over it."