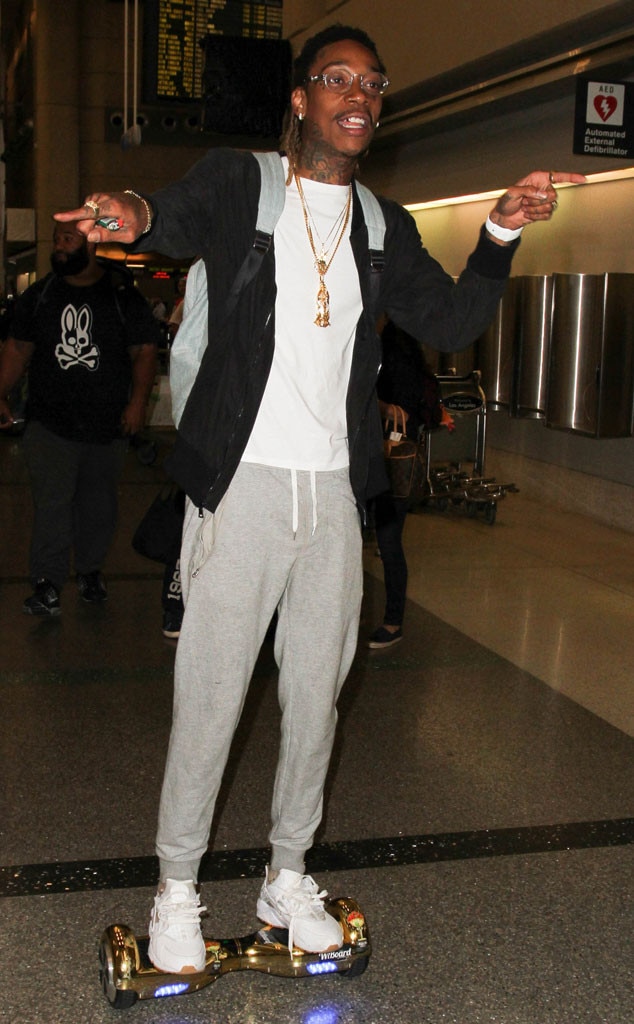 GVK/Bauer-Griffin/GC Images
UPDATE: A source tells E! Wiz Khalifa was not arrested but was restrained for failing to comply with U.S. Customs and Border Protection officers' commands. He later apologized, he was admitted into the country and left LAX, the source added.
__________________________
Wiz Khalifa just wanted to keep on rollin'.
The 27-year-old rapper says police at Los Angeles International Airport handcuffed him on Saturday after he refused to ditch his hoverboard, a wheeled toy ridden standing up that is marketed under several brand names. Police had no immediate comment. Wiz's real name, Cameron Thomaz, does not appear in arrest records.
The hip-hop star was photographed riding the toy, which is gold-plated, at the airport last week, five days before the incident. On Saturday, he posted on his Instagram page a video that shows what appear to be three uniformed officers restraining him on the ground, with his arms pinned behind his back. One of them says, "Stop resisting."
"I'm not resisting, Sir," the rapper replies calmly.
"3 cops yell stop resisting," Wiz wrote. "Only thing to do is let em know. I'm not resisting, I'm doin what I want."