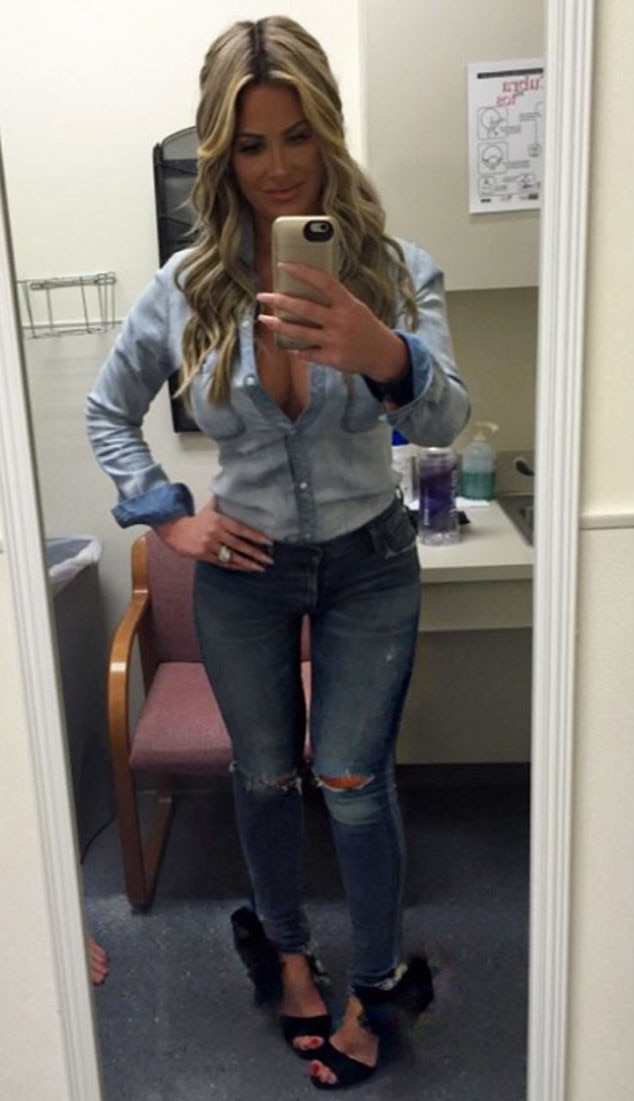 Instagram
Is this really about her shoes, though?
Kim Zolciak-Biermann bragged about having a thigh gap—all while denying that she was angling her body in a certain position to make it appear more pronounced—via an Instagram caption Wednesday. Wearing tight Citizens of Humanity jeans and Jimmy Choo shoes, the star of Bravo's Don't Be Tardy told her 1.4 million fans, "My feisty followers want me to take my pics closer up so you guys can see the detail!! How's this? And listen I turn my feet in so you can see my damn shoe not to have a thigh gap cause I have that anyway!!" She added, "#NotPregnantSoDontTryIt."
Many of Zolciak's fans were bothered by the mere mention of the space between her legs. "You best not brag about your thigh gap...your daughters are listening and watching and you don't want eating disorders to follow...be careful what u say!" @mcnickyo told the mother of six. "The only thing to say about a thigh gap is..'that's ridiculous.'" @beasts_beauty wrote, "I'm a fan @kimzolciakbiermann but you ain't keeping it real." Instagram user @nursesharon03I agreed with what @beasts_beauty said adding , "I'm a fan too, but I'm not buying it. Put your heels together, then take a picture=no thigh gap. You don't NEED one! You are beautiful. You have a beautiful family. Don't worry about the stupid gap!"
"Dear lord. Again with the pigeon toe pose? You look like clumsy child. Hot momma...work on your sexy pose rather then worrying about your thigh gap," @socalflipflop wrote. @andream615 asked, "Who cares if you have a thigh gap? You've turned extremely vain." @sunflowerkissed79 added, "I was thinking u were bow legged cause your pics are always with your feet kinda inward lol."
Some comments showed less concern and more contempt. "What the f--k is up with your weeble wable fucking legs?!" @jodierossk asked. "Stand f--king straight!"
Not every comment was negative, of course. @honeeebeee1 said Zolciak looks "gorgeous as always," while @shantastic808 told her she looks "fabulous."