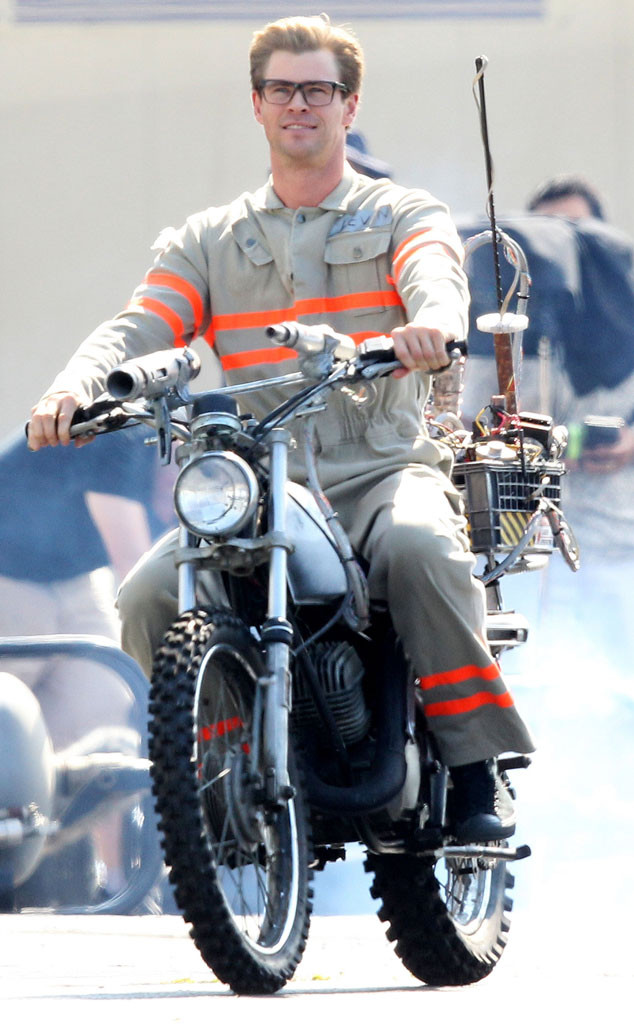 Patriot Pics/FAMEFLYNET PICTURES
Who ya gonna call?! Chris Hemsworth!
Hemsworth is dropping the hammer and picking up the phone for his new movie. Although he has proven himself a mighty superhero and worthy race car driver, this summer Liam Hemsworth's brother is working to make a name for himself as a comedy star.
First it was Vacation, co-starring with Ed Helms and Christina Applegate, and next will be the highly anticipated all-female Ghostbusters, in which he's slated to play the secretary of Kristen Wiig, Melissa McCarthy, Leslie Jones and Kate McKinnon. Move over, Annie Potts, there's a new assistant in town.
But based on the first photo of Hemsworth onset of the film, it looks like he'll be doing a heck of a lot more than answering telephones! The Thor actor was spotted riding on basic motorcycle, outfitted with a crate full of ghostbusting props. While Janine, the original secretary, wore her own clothes, Hemsworth was seen wearing a uniform similar to that of the women! Does this mean he'll get his chance to prove himself as a hero once again? Maybe!