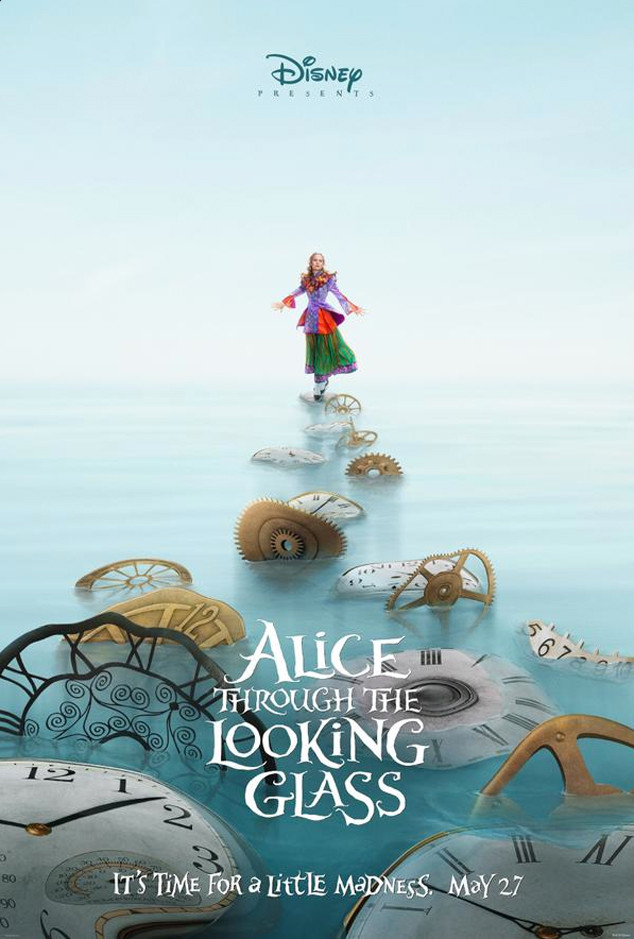 Disney
Welcome back to Wonderland.
The D23 Expo is underway in Anaheim, Calif., and to celebrate, Walt Disney Studios tweeted the first two teaser posters for Alice Through the Looking Glass. The whimsical artwork shows Alice Kingsleigh (Mia Wasikowska) and the Mad Hatter (Johnny Depp) in the colorful, wild world that novelist Lewis Carroll created.
Other actors reprising their roles include Helena Bonham Carter as Iracebeth of Crims, the Red Queen; Anne Hathaway as Mirana of Marmoreal, the White Queen; and Matt Lucas as Tweedledee and Tweedledum. Returning voice actors include Stephen Fry as Cheshire, the Cheshire Cat; Alan Rickman as Absolem, the Blue Caterpillar; Michael Sheen as Nivens McTwisp, the White Rabbit; Timothy Spall as Bayard, the Bloodhound; Paul Whitehouse as Thackery Earwicket, the March Hare; and Barbara Windsor as Mallymkun, the Dormouse. The fantasy film features new faces, too, including Sacha Baron Cohen as Time, Rhys Ifans as Zanik Hightopp, the Mad Hatter's father; and Ed Speelers as James Harcourt. Toby Jones voices Wilkins, and John Sessions voices Humpty Dumpty for the first time, too.
Tim Burton handed the directorial duties to James Bobin but remained involved as a producer. Linda Woolverton, famous for penning 1993's Beauty and the Beast and 2014's Maleficent for Disney, wrote the sequel's screenplay.
Alice Through the Looking Glass is in theaters May 27, 2016.