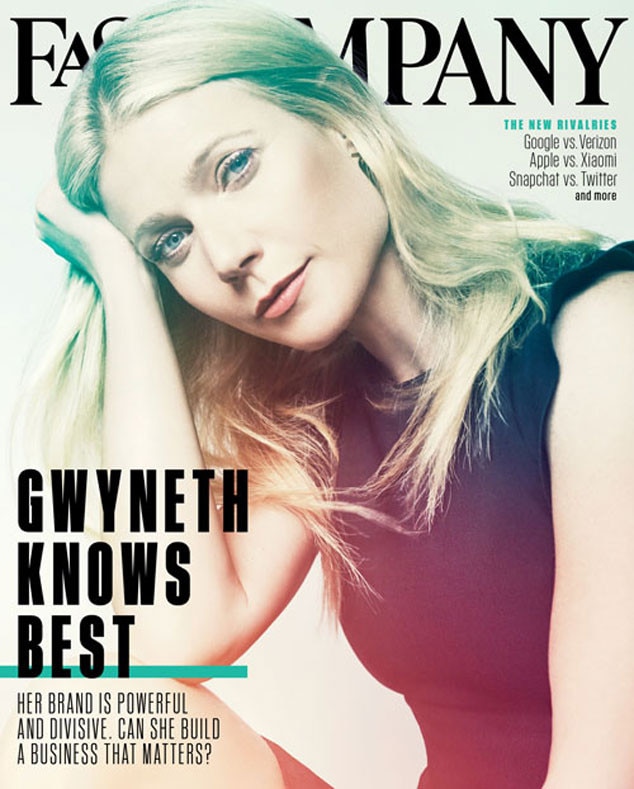 Williams + Hirakawa
Gwyneth Paltrow popularized the idea of "conscious uncoupling" when she announced her plans to divorce Chris Martin after 10 years of marriage in March 2014. Today, however, she denies responsibility for taking it mainstream.
"When I announced that I was separating on the website, [Goop editorial director Elise Loehnen] titled the piece 'Conscious Uncoupling,' and I had no idea," Paltrow, 42, tells Fast Company's September issue. However, the Oscar winner and devoted mother of two didn't distance herself from the phrase. In fact, she shared an article that detailed Dr. Habib Sadeghi and Dr. Sherry Sami's philosophy on Goop.
Some people laughed at the notion of "conscious uncoupling," Paltrow concedes, and that made things a little bit uncomfortable for Goop's staff. "When something like that happens, I think everybody is like, 'Oh, s--t,'" Paltrow says in the issue. "I just tell them that I think we are creating interesting discussions."
When Paltrow appeared on Howard Stern's Sirius XM radio show earlier this year, she continued to champion the breakup philosophy. "It's a noble idea," the Mortedecai star said, "and it's a great thing to try to do for your kids."
"We actually have a really strong friendship and we laugh and have fun," she said, "and we're lucky in that our parenting styles and philosophies overlap a lot."
"It's working," she added, "but it is kind of a goofy term."