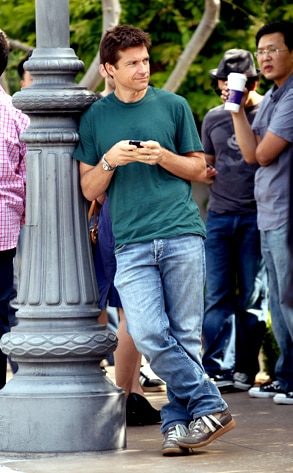 Owen Beiny/WENN.com
UPDATE: Not so fast, haters:
"There wasn't one boo," the actor tweeted. "Not one hiss. The Apple guy brought me in away from the paparazzi. Period. I was content in line. I wish I'd stayed." So there you have it.
________
Arrested development, or perfectly understandable?
Jason Bateman wasn't the most popular kid on the block Wednesday at the Grove in L.A. when Apple Store employees plucked him out of line and personally escorted him inside—allowing him to go ahead of a reported 2,000 gadget lovers who were waiting to get their hands on the new iPhone 4.
At least Apple was providing complimentary water bottles to the thirsty tech fiends, right?
Let's just say, the boos coming from the crowd as Bateman left the store, awesome new phone in hand, really said it all.
(Originally published on June 24, 2010 at 5 p.m. PT)