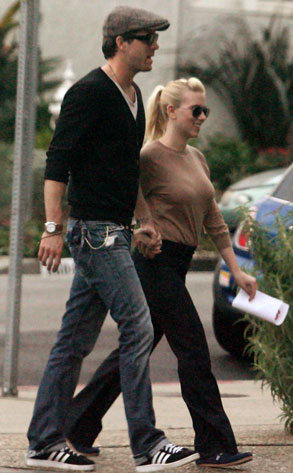 Fame Pictures
Dear Ted:
I just adopted my second dog, Eddy, aka Edward, to go with Bella, who was in a puppy mill. My question is about Ryan and Scarlett. I get the feeling that these two won't last. It's just my intuition. What do you think?
—Mr. F
Dear Gut Feeling:
Scar and R.R. are indeed hot for each other and going strong, probably because they don't flaunt their marriage for the press to pick apart. So strange when a couple keeps their personal lives personal, huh? However, just for the record, A.T.'s Taryn Ryder and Marc Snetiker totally disagree with me on them actually lasting.
Dear Ted:
Regarding Nelly Fang, do you think it's possible that it was a case of mistaken identity? If Nelly is new to the Hollywood scene, is it possible that your source was actually with someone who just looked like him? Your source was, after all, turned around and facing the ground the whole time.
—Lauren
Dear Case Closed:
Sorry, babe, while a good (and naughty) question, our intimately knowledgeable source got some serious face time with the vamp Vicer—enough to make sure the dude was exactly who our lucky runner thought he was. And what makes you so certain it wasn't Nel who was dogass down on the grass?
Dear Ted:
Is Polly Luscious-Locks Emma Roberts? Am I close?
—Laura