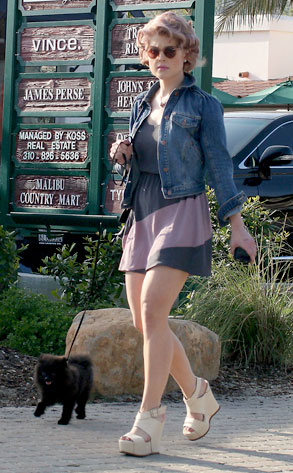 Ramey
Well, this is unprecedented.
Just a few hours to go until the 10th season of Dancing With the Stars kicks off and the closest thing we've come to an overhyped, screen time-milking injury is a bad case of nerve-induced hives. (We knew we could count on you, Shannen Doherty!)
Which is good news for the stars, but bad news for the decreasing relevance of the Dancing curse. Luckily (but, you know, not) former competitor Kelly Osbourne is doing her part to uphold the limb-claiming legacy, falling prey to an injury just this weekend.
"I fractured my elbow this weekend and it is hands down the most painful injury I have ever had!" she tweeted this afternoon.
"To cut a long story short I was trying to stop the dogs from fighting at my mums and managed to fracture my radial head! :("
Hopefully that won't stop her from cheering on former partner Louis Van Amstel and his new partner Niecy Nash on tonight's premiere.