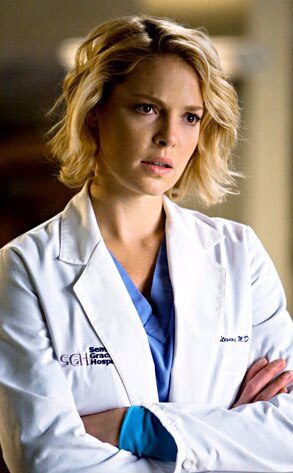 ABC/RANDY HOLMES
Jeez, now that all that diva dust seems to be settling (somewhat) about Katherine Heigl's leaving Grey's Anatomy, gotta say I'm pretty damn bummed.
Who the hell are we going to hate on now?
The outspoken star played sensitive yet headstrong doctor Izzie Stevens for six exquisitely painful seasons, and that character almost made me like the actress too—but not quite. I'm not one to tell a gal to pipe down—hey, if she's got an opinion, let's hear it—but Kathy has gotten quite the snotty rep in recent years.
What between dissing the Emmys, scheming her way in and out of roles, and bitchin' about anything and everything, K.H. can be downright grating!
But recently Katherine's onscreen ego has become just as much of a downer as the star, so I can't say I'm too disappointed to see her get the silver-screen boot. 'Tho, now who will replace her as the star we all absolutely can't stand?