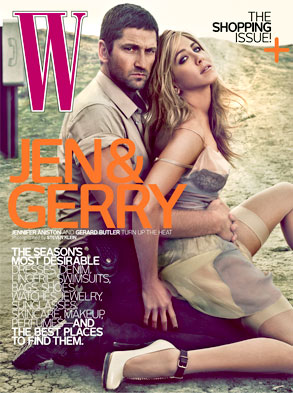 Steven Klein/W Magazine
Was anyone else a little surprised that Jennifer Aniston didn't show up at the Oscars or afterparties to promote herself and that new Bounty Hunter movie à la the Golden Globes or last year's Academy Awards? Maybe Gerard Butler told her he couldn't be her maybe boyfriend this time around; he's got other ladies to grind.
Whatever the case, the two are back together on the latest cover of W. They kept it relatively clean for the Steven Klein spread where he plays a sexy cop and she's a sexy criminal and they pose in the desert sexily.
The fashion mag has yet to release the article, so it's totally possible Jen and Ger confess their undying love for each other. For now, all we know is...