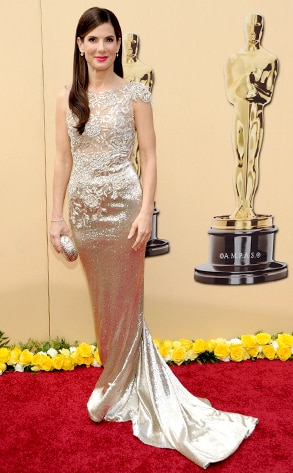 Kevin Mazur/Getty Images
Talk about the Best. Timing. Ever.
On the biggest red carpet of her life, Sandra Bullock finally pulls her style together to accept the Best Actress Oscar. (What a relief—after a not-so-stellar season at the kudosfests, we weren't sure if she'd get it right.)
But here she is, glowing and gorgeous in a beaded Marchesa column gown with an embroidered bodice and a pop of bright color on her lips. We're so glad she finally settled on this nonfussy style. It really suits her best.
And Sandy isn't the only one who rocked it. Zoe Saldana's colorful confection was the most daring of the night. And Miley Cyrus killed it with her soft and youthful look.
See all the fabulously dressed stars; plus, all the looks that fell flat (ahem, SJP and Charlize Theron), in our special Oscars 2010: Fashion Police gallery!