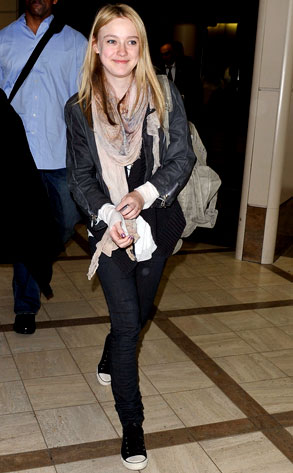 INFphoto.com
How does a super successful movie star slash average high school cheerleader kickoff her birthday? If you're Dakota Fanning, you keep it lowkey.
Fanning celebrated her sweet 16 Saturday night at Beverly Hills hotspot Villa Blanca, an eyewitness tells E! News exclusively. The New Moon star, whose actual birthday is Tuesday, was spotted enjoying dinner with 40 guests at the fancy eatery.
Fanning's party arrived around 7 p.m., which included her parents, family, and several friends, and continued celebrating until almost 11 p.m. "She looked like she was having fun and was really cool," the source says of the dateless star. "She was talking to her friends and laughing all night."
E! News caught up with Fanning after enjoying her three-layer birthday cake with chocolate mouse, and when asked if she'd be sporting a driver's license in the near future, she replied: "I don't even have permit."
So we won't be seeing her on the road anytime soon, but Dakota can be seen later this year in The Runaways, and the third Twilight flick, Eclipse.