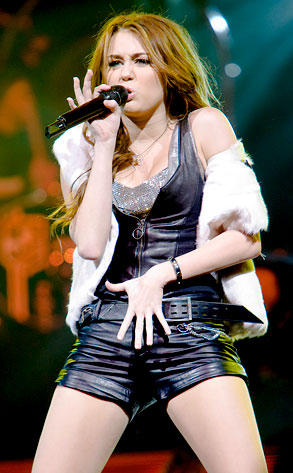 Ray Garbo / WENN.com
Dear Ted:
Do you think Miley Cyrus is as bad and talentless as everyone says? I think she has talent, and I honestly don't believe she's all that slutty. I mean, if you want to see slutty clothing, walk into a public high school.
—Ricki
Dear Miley Maniac:
Let's just say I don't expect Miley to win a Grammy anytime soon, and I certainly think Mickey Mouse would blush if he caught wind of her wild antics. Sure, Miley's definitely not the only reason to make that happen, but don't you think her love of low-cut shirts and booty shorts may be part of the reason these young girls are dressing the same? Hannah Montana is (or was) their role model, after all.
Dear Ted:
Is Roxy Couture Kelly Ripa and her hubby Marc? She seems like she's pretty trusting.
—LC
Dear Courting Couture:
No, think less chatty and even more fashionable.
Dear Ted:
Do you think that Zac Efron and Vanessa Hudgens will honestly last? I hope not. I can't really stand them together its so... elementary school. I'm leaning more towards him and Miss Tisdale. What do you think?
—Rose