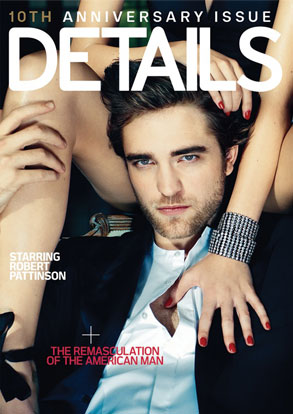 Norman Jean Roy/Details
Dear Ted:
I just read the Details article on Rob Pattinson. I guess I am a little confused...he said that he really hates vaginas and that he's allergic to vaginas. What!? Is he just trying to throw us off? Why would he say something like that?
—T
Dear Need The Deets:
Last time I checked, R.Pattz didn't have a Zyrtec prescription and he's been sneeze-free around his many sexy costars. Dude probably meant it as a harmless joke, but boy did it get people talking. And people think K.Stew's smarter? Yeah, right.
Dear Ted:
Do you think the stars of your BV ever read them and try to change their ways, or at least give them some kind of courage—even if for a while—to come out and be free from all the secrecy?
—BV Addict
Dear Optimist:
Stars are like 2-year-olds, they aren't going to do anything they don't want to. So...if they want to keep up their nasty little secrets, my poking isn't going to make them change.
Dear Ted:
I used to love coming to your site and reading about the latest happenings and gossip in Hollywood. But this obsession you've got with Danneel Harris has gotten absolutely ridiculous and even pathetic. I feel like I can't come on this site a single day without having you gush over Danneel or posting pictures of her. It's left a lot of people turned off and it's irritating as hell. A lot of people don't even take you seriously anymore.
—R