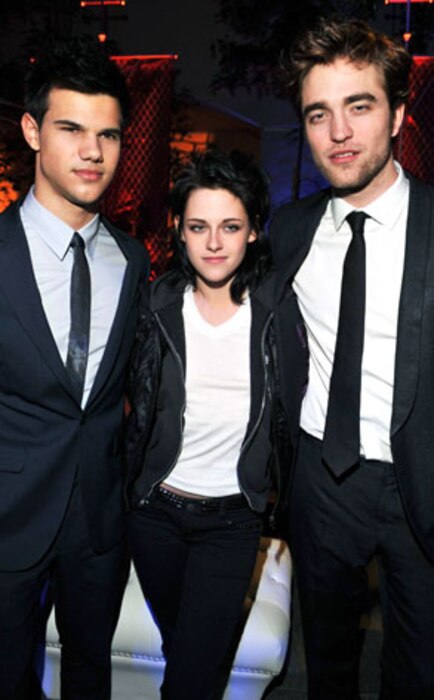 Lester Cohen/Getty Images
Dear Ted:
Do you have any information about Kellan Lutz? He keeps saying that he's single but is always hanging around AnnaLynne McCord! Is he just using her for sex, or are they in a real relationship? I hope to dear god that he's not gay, but still! Also, could there be two love triangles on the set of Twilight? I have a feeling one is between Rob-Kristen-Taylor because he's been trying to get in on the action from what it looks like, and the other is Rob-Nikki-Kristen. I read that Rob was just using Nikki for sex, and that Kristen initially ignored Rob's attempts to hook up. Any of this true?
—Doli
Dear Answers:
Yes, you're correct on a few things there. First off, though, you couldn't be more wrong about the Robsten-Taylor love triangle. Lautner was never involved in that stuff. Nikki was a lot more. As for Kellan, he and AnnaLynne are definitely on. Don't think they're necessarily exclusive?just two good-lookin' people who enjoy each other...a lot.
Dear Ted:
Brad and Angie were all over each other at the Super Bowl. To me it looks like another stunt by the skank and the dirtbag to make it seem like they are in love?until they are ready to tell the world they are breaking up. But do you actually think Angie would let Brad leave and prove everyone right, or will she hang on to him and lead her own life privately?
—ANC
Dear Not Buyin' It:
Angie would never leave Brad with the whole world watching. That's a fact.
Dear Ted:
Taylor Lautner's birthday is Feb. 11. We can finally look at those abs without feeling so guilty! Have you thought of a present for him? How about on the occasion of his becoming an adult, you confirm that he is, indeed, a Blind Vice star?
—IMQA