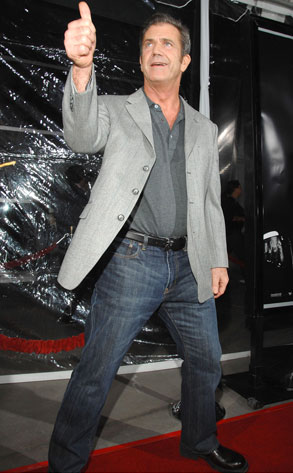 Lester Cohen/WireImage.com
A great publicist is always prepared to take a bullet for his A-list client. And sometimes, the bullet is headed in his direction anyway.
Mel Gibson's longtime rep, Alan Nierob, said Wednesday that the expletive Gibson used to punctuate the end of his TV interview with a Chicago reporter yesterday was directed at him, not at the dastardly interrogator journalist.
Gibson was still facing the camera and uttered the word just seconds after giving WGN's Dean Richards a terse "bye-bye," but that's neither here nor there.
Nierob was "pulling faces" during the interview and Gibson called him an "asshole," he explained to CNN.com.
So, according to Nierob, we can chalk the slip up to good-natured manspeak—client-publicist camaraderie, if you will—rather than Gibson's frustration at being asked about a certain other verbal gaffe that occurred 3 1/2 years ago.