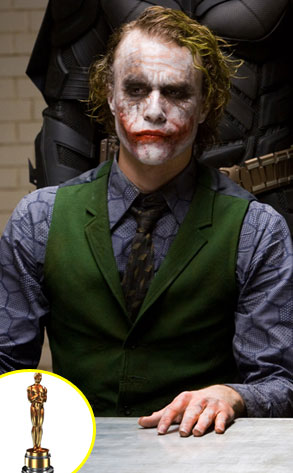 Stephen Vaughan / DC Comics
What if Heath Ledger doesn't win an Oscar Sunday night? The late Aussie just might not be such a sure thing after all, we're told. Matilda probably already cleared a space in her playroom for her dad's trophy—but as Oscar history shows, there's always an upset.
(How about Michael Caine walking right past Magnolia's Tom Cruise to collect his statue for Cider House Rules? Exactly.)
So far in the 2009 race, Josh Brolin's the only guy to steal some awards away from Heath—from the New York Film Critics Circle and National Board of Review—but the showdown's really between two jokers: Ledger and Robert Downey Jr..
And some Oscar insiders are more than happy if this is what goes down: